ACCOMMODATION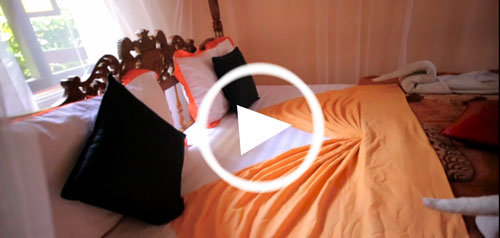 Frangipani Motel is located in (THE) Galle Dutch Fort. There are (very less of) handful of locations for you to stay in Galle Fort (including)all the facilities (with a) calm and quiet surrounding. The rooms are well maintained, air conditioned, floor tiled , with a usable computer and internet facility inside and outside the rooms. We also have a mini library for those who read a lot. Frangipani Motel could the best with great hospitality . we do even provide a single extra bed or baby cot for your child.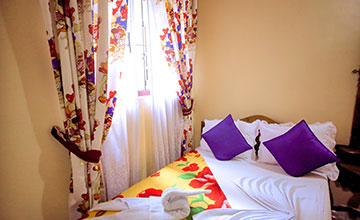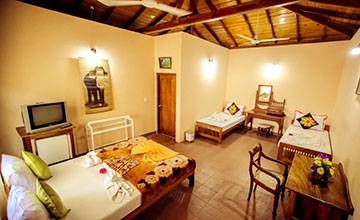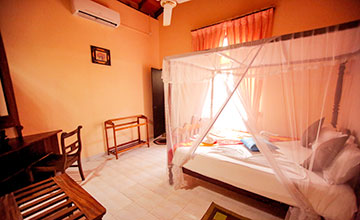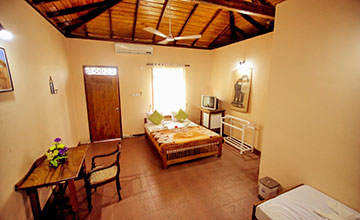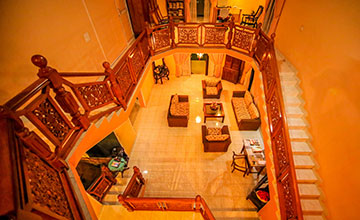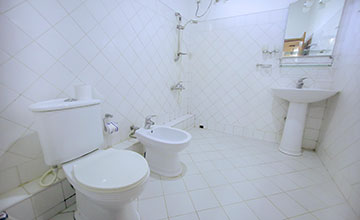 BALCONY DOUBLE ROOM (PLATINUM)
This is our first range of rooms. They include a balcony with enough space for you to relax or even to be in sun during day time, at night it will be a very cool place for you to entertain and feel the real pleasure of night. They can be used as Honeymoon rooms since it gives you romantic feelings with surrounding. The view of Galle town and the Galle Fort can be seen from this room. You will get a king size bed fans, mosquito nets Wi- Fi facility in this air conditioned room. There's mirror table other facilities like attached bath rooms with hot water for your convenient.
FAMILY ROOM (GOLD)
This range also has a mini bar TV king size beds and Wi-Fi facility for your convenience. This has a special area of nearly 100 sq. ft. balcony with pots and plants that reminds you that you are in a garden. You have enough space for you to relax in outside. They also include a king size bed, mosquito nets, clothes hanger, mirror table and the necessary facilities like bathrooms with hot water for your convenient stay. The rooms have large windows that provide more light and proper ventilation if you need.
DOUBLE ROOM (DIAMOND)
On the 1st floor you get our range of these suites. These are well lit spacious rooms with a king size bed with mosquito net, a mirror table small cupboard fans. These have large windows that give you the access to outside.They also light the room with sunlight during the day time. If you want to be with natural air and natural light, these are the perfect rooms. But if you feel like to be in a cool atmosphere, these rooms allow you to use air conditioner. You can have a hot bath in the attached bath room anytime of the day, to feel you refresh.
The other two sets of room we provide you are the Gold and Silver rooms. Both these rooms are located just in front of our Hotel in the other apartment. Although they locate there, they are maintained and supervised by the same management.
The Gold Rooms are Air Conditioned and they also have Wi-Fi facility and the rooms are equipped with a double bed with a mosquito net, a mirror table and a small cupboard to keep your belongings safe. You are also provided with a bathroom with hot water attached to each room.
The Silver Rooms are in the down stairs of the apartment. There's not much difference, you will get all the facilities just the same. They are Air Conditioned rooms with a double bed with mosquito net, a mirror table and other basic facilities with a bath room which allows you to have a hot bath are provided in this room range.
TRIPLE ROOM (SILVER)
Next range includes facilitates that meet your requirement at its best. The room is equipped with one double bed and one single bed that allows you to share it with your loved family. This room also provides you all the necessary facilities you look for. The room has an attach bath room with hot water to have a perfect bath according to your wish. The room is also air conditioned and gives you the comfort you deserve. It is equipped with a TV that provides you with entertainment.
BASIC ROOM (RUBY)
Frangipani Motel offers you another fabulous chance to select among their wide range of rooms. The basic room provides you a good space to relax with all the necessary facilities. It includes queen size bed with air condition atmosphere. The attached bath room gives you a chance to have hot bath. It is also equipped with Wi-Fi that allows you to get connects with the outer world and let's you to connect with your family or friends in your country.
FACILITIES
Frangipani Motel has a ground floor with two sets of settees that allows around 15 people to sit and have a chat. The environment in the area is cozy with a nice mural a small waterfall that makes you relax and calm. From the entrance to the room you will not believe that you live in a City, it is the most impressive thing in the Frangipani Motel. The corridors are well maintained and that are inviting. You can even have a sit in the corridor to read a book. You will never hear the sound of vehicles or other disturbances.
The outside garden is also a special place. In a place like Galle Fort you can never find a place like this since there's no enough space left in Galle Fort. But if you stay in Frangipani Motel, you get this rare chance, a well maintained garden with a swing with green grass and plants lets you an evening walk in the natural setting. Or, do you think it is the perfect place to have your breakfast or dinner...?? Yes. You got it... The breakfast and dinner will be provided there on your request. If you want to have a small function, a birth day party or an anniversary party, Hotel Frangipani is ready to surprise you.
We are ready to take care of you from the moment you step into our mother land. We do the airport pick up and we will take you to our little paradise. If you want to have a closer look around our country we are ready to take you around the country. We have a trustworthy experienced tour service that allows you to travel any place according to your taste.
If you feel like being away from the city and have a more leisurely life you can stay in our villa just a few miles away. During your stay you can join with us for whale watching, coral watching at Hikkaduwa, surfing, fishing, boat riding and many more. And if you want to rent a bike don't hesitate, we have it. We are ready to meet your needs because your satisfaction is our expectation.